Reflect in an interview with Raphael Gielgen
Raphael Gielgen has spent most of his professional life making the world of work a little better.

His curiosity for architecture, technology and social change in the context of the working world is his fuel - always linked to the question of how the globalised working world is changing and what influence this has on existing business models.

His radius of action leads around the world. In his search for the "source code" of the working world he visits universities, entrepreneurs, start-ups & labs. He documents his findings and experiences on a "panorama". This is a map of the trends and patterns of a new world.

Picture: Tom Ziora, Copyright: Vitra
REFLECT: You are trend scout "Future of Work" at the leading office furniture manufacturer Vitra. What exactly do you do in your everyday work and where do you get your inspiration from?
Raphael Gielgen: An essential part of my job is to uncover the patterns of the working world that lies ahead. This means: discovering and receiving signals and deriving and recording images of a possible future in the context of work from these signals. Essentially, I am interested in knowledge work, which also corresponds to the context of Vitra.
Using these images we create patterns or maps that enable our partners, clients and friends to put themselves in another time.
I am curious per se and in principle everything interests me first. Therefore it is relatively easy with inspiration. Basically, every day is like the show with the mouse for me. There are of course things that I consciously choose or visit. There are just as many things that fall in front of my feet - by reading, looking and exchanging ideas with people.

REFLECT: Of course you have to ask a trend scout the question: What are the trends of tomorrow?
Raphael Gielgen: Every 18 months I create a work panorama with eight theme clusters. One new cluster, for example, is "Planet-Centric Design": the responsibility we as people have for the place where we live. Of course, one can ask oneself: What does that have to do with work?
With the Agenda 2030 for sustainable development, the international community of states expresses its conviction that global challenges can only be solved together. The Agenda creates the basis for shaping global economic progress in harmony with social justice and within the earth's ecological limits. The Sustainable Development Goals of the United Nations serve as a common orientation aid for companies to orient their goals and activities towards sustainable development.
In the world of work, this can mean, for example, that employees commute less and work from home. Companies can also make a contribution to the construction of company buildings by using timber construction instead of concrete. Adidas has now completed its first building made of wood, and Europe's largest earthen building has been constructed at Alnatura in Darmstadt. Companies suddenly pay attention to "local" and "seasonal food" and accordingly offer such dishes in their canteens.
The "anywhere ecosystem of work" is another new topic. Work has freed itself from the old office and suddenly people can choose where they work according to their living conditions. Whether I stay at home, work in a "co-working space" in the neighbourhood, in a hotel or go to "headquarters", I can make this decision freely.
Another topic is "virtual connectivity". If the physical architecture of the work is the first level, the virtual one is the second level. Both levels must be considered in order to understand the potential of these two worlds. Then you can orchestrate your business and get the best of both worlds. So people who come from the classical architecture have to deal with the virtual world and vice versa. I assume that at some point there will be a modus operandi that will enable us to work together in the best possible way.


REFLECT: Covid-19 once turned the economic world upside down and shook it up. How does Vitra experience the time of the lockdown and what do you take away from the crisis as opportunities?
RG: The greatest opportunity I have experienced is slow thinking. I also enjoyed the standstill and realized how important it is to think slowly.
The complexity of the interpretative signals is "key". The people who are a bit further ahead today have basically done only one thing: looked. It's not about inventing something, we simply don't look enough. Tracking means looking and patiently waiting for the murky waters to clear.
As a company we have felt that the isolation of the last few months is not for us. There is a great longing to return to the office.
Not insignificant was the experience of how well one can organize oneself as a team without constantly asking the boss. "Remote work" was a helpful insight for everyone. It enables us to make decisions, contextualize things and make recommendations to clients.
Another point is the speed of change. This requires an agility where unlearning is the central element. I think the term lifelong learning is inappropriate because, in addition to learning, we also have to unlearn again and again. Our original conditioning prevents us from doing things differently, so we need a "reset" to learn new things.

REFLECT: Vitra stands for open office concepts in order to gain quality and overall a greater variety of options. What do you think the new normality - or as we call it "the improved reality" - will look like despite new hygiene standards, distance regulations and possible space savings in the office?
RG: The central challenge will be to deal with the physical and virtual architecture of work. We are too absolute as a society and are looking for ad hoc answers. Another problem is the Netflix society - "subscription economy" is not good for our head. Being able to do everything comfortably from home is poison for us, because then we no longer step outside the door and completely reduce the comprehension of this world with all our senses. We have to fight against these factors. We copied it and moved there without criticism. In the future, routine work will become even more automated. The IT - departments have literally woken up and realized how fully this is possible with platforms like Microsoft Teams. The future belongs to the collective.
At the moment when problems can only be solved in the core only through interaction with colleagues, spaces will come into play that support interaction, randomness, experimentation in the sense of a space.

REFLECT: REFLECT has been working with Vitra for some time now, especially when it comes to achieving a good balance between quality in the ENVIRONMENT and quality in the PROJECTS. In your experience, how important is such a balance?
RG: I am talking about the cultural framework of an organization. In the past, we have reduced the corporate culture to trust and loyalty, among other things. Management was only focused on strategy. But the social order of a company is invisible and is called culture.
Some companies are authoritarian and performant, others are caring and meaningful. In other words they are stable and dependent, or flexible and independent. A law firm is certainly based more on order, while for an organization like Alnatura, "purpose" and "caring" are important. If these are the characteristics of a cultural framework, then they provide guidance and orientation in any interaction, both with each other and with third parties.
Architecture is the body language of this cultural "framework" and can provide massive support. You have to face it in order to keep up with the rapid pace of change and to know and consciously use the system of social order of your company to pursue your goals.

REFLECT: In your opinion, what are the essential cornerstones for designing an office that best meets future requirements? (e.g. in terms of employee health, agility, processes, structures, economic efficiency, etc.)
RG: For this purpose, I would like to explain the prototype of the Vertical Campus: it should show the old and new working world. It was created during the lockdown phase in cooperation with three architecture students of the TU Munich.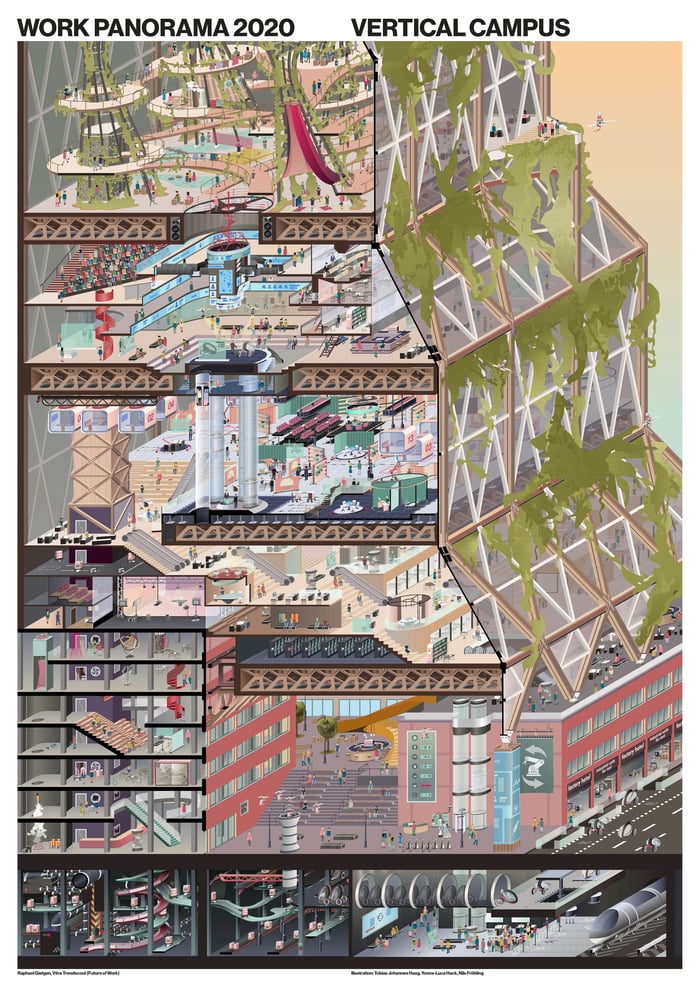 There's a hyperloop station in the base of the building. At the same time all incoming and outgoing goods are automatically processed on e-pallets.
The area above forms the plaza, surrounded on the right and left by an old administration building. The idea was to build the new on top of the old in order not to take anything away from nature. It also makes it easier to understand how limited the dimensions of the current buildings are. The administrative building on the right has been converted into the "Factory Hotel": a "coworking space" for machines and for those who don't have all the machines. The new building is built over the entire cubature of both old buildings. This brings us first to the thematic area of the "Campus Community", starting with the "Townhall", which in turn is split into four "Micro-Townhalls" - with the option of combining them again as one large one. To the left of it there is a studio, because I assume that the majority of companies will have their own film and podcast studio in the next few years. The whole building is based on new technologies of constructive timber construction.
One level higher up you come across the thematic area "permanent beta", a space that basically functions like a technical theatre stage. There is the possibility to use the ceiling and floor flexibly to quickly convert rooms and create very different settings - depending on your needs. I see this as the spatial source of inspiration.
Again higher up is the theme of "teletransfer" with "reskilling" and "upskilling". This space serves primarily to convey knowledge and new knowledge for the collective. There are well-known elements like a library but also new ones like "Holodesks". In the middle, the "Timesquare" with huge "billboards" forms the center of this floor and provides people with permanent information, so that they can constantly educate themselves and also discover new things.
The top floor is home to the "human core" theme - where creation takes place, there must also be enough room for regeneration. Here you can come to rest and meditate or do yoga or sports.
For me, the Vertical Tower is a polar star, not a utopia, it is not far enough away for that. You can clearly see how limited the old architecture of the work is. Unfortunately, we have sometimes become so uncritical and have copied the old world, which we have domesticated so much, too often and based on standards. We are no longer able to think beyond these standards, although this is precisely our social obligation. We should be more of a rebel.

REFLECT: Last but not least: What does your own office look like?
RG: At home I have a comfortable large studio - at least 40 m2 in size. We live in the countryside next to a small courtyard with an open plan kitchen. During Corona I have set up a first-class "Hello World Webcast Studio". However, my family went on strike when I had sessions with Japan in the morning or California in the evening. With the barking of our dogs after 7 minutes 40 in the "Webcast", I moved into a closed room with the studio.
At Vitra I also have an office and my colleagues. But it is 505 km away. I like to take the way, because I find my peace, my inspiration at home. Furthermore, transit zones are another place for me. Just to be able to observe people and to look at them, which is of course not necessary right now.

REFLECT: Thank you very much for the view into the future and all the best!

The interview was conducted by Jutta Merkel.


---

Also read our other interviews:

REFLECT in an interview with Dr. Hofmann - CEO of MHP
REFLECT in an interview with Dr.-Ing. Tim Weckerle
REFLECT in an interview with Jörg Eckstädt
REFLECT in an interview with Prof. Jan Teunen