Reflect interview with Prof. Jan Teunen
- Cultural Capital Producer and Initatior of Officina Humana - about executives as gardeners and offices as greenhouses for creativity

Vita

Jan Teunen (*1950) is Cultural Capital Producer. As managing director of Teunen Konzepte GmbH, he supports his clients in increasing their cultural capital and economic power. He is a member of the board of trustees of Burg Giebichenstein / Kunsthochschule Halle and holds a professorship for design marketing there. Jan Teunen is married, has two children and two grandchildren.

Reflect: Dear Professor Teunen, you call yourself a Cultural Capital Producer. What exactly does that mean?
J. Teunen: A Cultural Capital Producer takes care in companies that a balance is struck between economic and ethical responsibility. This is the prerequisite for the development of a constructive, positive corporate culture. The example of my client dm shows that dm has this balance and Schlecker didn't. In the future, economic strength will come from cultural, moral and aesthetic strength. I help my customers to cultivate themselves and bring about these forces.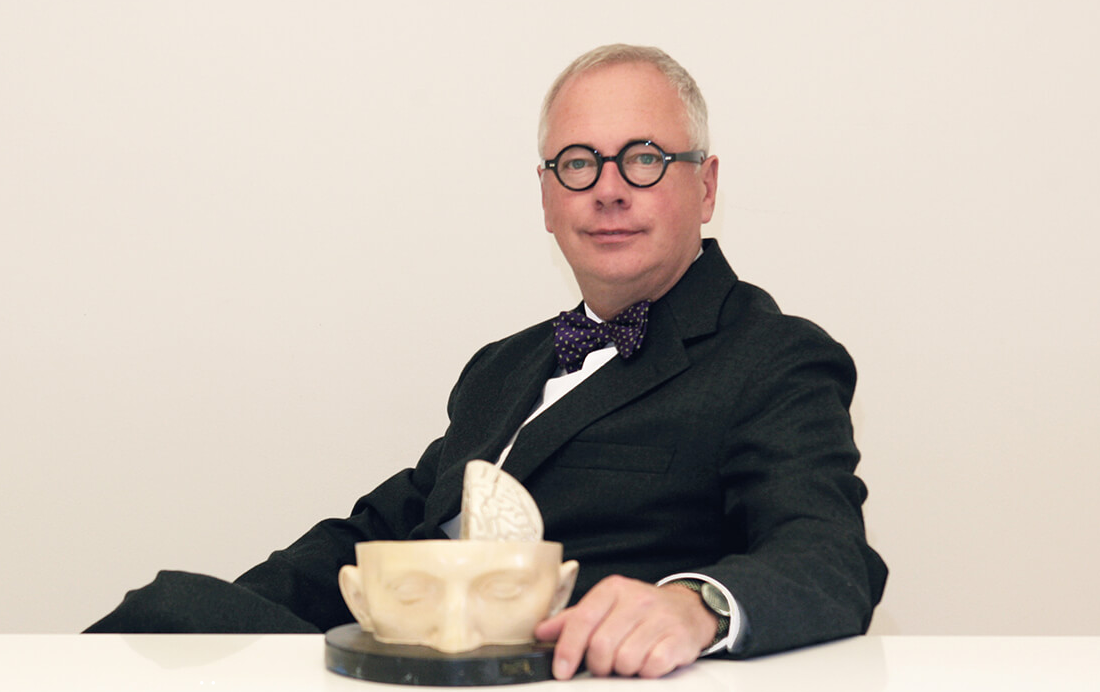 Reflect: You characterize today's offices as soulless spaces and deserts for people. Is it really that bad about the office worker?
J. Teunen: Many companies are out of balance. 90% of all offices are characterised by economic rationality. This is not a climate in which human potential can unfold. People cannot thrive in these rooms and any motivation is stifled. The Gallup studies show that only 15% of employees do their job with heart and soul. 70 % do their work according to the rules and 15 % have resigned internally.
60% of employees are afraid at work. Bullying, boredom and loneliness are also widespread. As a consequence, over 40% of the money invested in people is lost. These are enormous friction losses for companies. What is even worse, however, is that the quality of people's lives is destroyed and society and thus the world are hurt.

Reflect: These figures are frightening. They also say that people from today's offices get sick.
J. Teunen: It is a fact that 60% of all heart attacks in men occur between 6:00 and 9:00 a.m. on Monday mornings. At the time when they have to go back to their office. This is the case throughout Europe and also in North America. A society cannot afford these conditions. There is also a flagrant imbalance in the world in terms of distribution of wealth and cooperation. If we want to balance this, we need motivated people.

Reflect: How can we motivate people? Was this the original idea of your concept "Officina Humana"?
J. Teunen: The origin of the Officina Humana idea goes back to my meeting with Nobel Peace Prize Laureate Mohammed Yunus about eleven years ago. Mohammed Yunus has freed many people from poverty with his microcredits. He also wrote the sentence: "Poor people are like bonsais. They are made of a good seed but have a shell that is too small and can therefore not outgrow themselves. Yunus wants to put poverty in the museum. In our conversation I told him that he could not make this dream come true if we did not free the bonsai people who live here in offices dominated by economic rationality and eliminate the spiritual poverty that results from it.
Another important meeting was the meeting with the brain researcher Professor Dr. Gerald Hüther at a lecture in Berlin. Gerald Hüther conducts research on the living brain and thus knows that the dopamine axis gushes most vigorously when the quality of the environment and the quality of handling are right. These two qualities are the main motivation drivers.
The knowledge to the topic quality in the surrounding field and quality in handling was compiled in the book Officina Humana - the office as habitat for potential development. It is a feeder for the consulting company with the same name founded by ASB Hessen. The aim of the initiative is to improve the circumstances in companies and to make the awareness and knowledge of Officina Humana available to business. This initiative has since been adapted. The designfunktion Group, supported by Vitra, is a furnishing expert covering the field of quality in the environment. Reflect provides advice in the area of quality in handling. The development of holistic solutions for companies with Reflect's model of healthy organisation and the focus on balanced leadership and potential development fits together very well.

Reflect: If we start from the Reflect Model of the "Healthy Organisation", which areas do you think affect the quality of the way we deal with people and the quality of the environment the most?
J. Teunen: I think your approach to a healthy organisation is very good. The focus is on balanced leadership. The task of leadership in a company is not to manage complexity, but to renew leadership and be wise. Corporate culture always follows leadership or it does not. Wise leaders have a balanced triad consisting of rationality, emotionality and sociality.
Quality in dealing with others has a lot to do with leadership and mentality. In order for the quality of interaction in a company to be right, it needs orientation from the outside. A set of rules is needed, not to bring about a compulsive neurotic order, but to ensure that the working group succeeds socially. ASB Hessen has chosen Reflect as its partner because the Reflect model of a healthy organisation, like Officina Humana, strives for a holistic approach. This is the only way to achieve change within the company.
The quality of the environment checks whether the circumstances are such that people can work well together. It is particularly important that recreation is possible after every creation. Purely functional offices cause negative stress. As a consequence, people lose what they need right now in post-digitisation, creativity and intuition.
Therefore the room must make an offer, that after each creation the Rekreation is possible. "Multispace - concepts are therefore very important, because rest areas are integral component and contribute to the fact that creativity and intuition of humans remain.

Reflect: There are very many office concepts. However, open-plan and individual offices are still the standard in today's offices: In your opinion, what could a promising concept for workspaces of the future look like?
J. Teunen: The workspace has become something like the second nature of people. People used to live in the first nature. The first nature has a quality that enables both a functional and a poetic relationship. This quality can also be made possible in the second nature, i.e. the workspaces, but it must be brought about. This can be achieved by flooding workspaces with beauty and turning them into greenhouses for creativity.


Reflect: And how can this be achieved?
J. Teunen: Digitization has reached the offices and has meant that routine tasks are largely performed by machines. This is a gift, because man is not made to perform mind-killing activities, but should be creatively active. Creativity cannot function in functional spaces, but requires a harmonious environment. I like to take the picture of a garden. The garden is a place to which one attributes work, toil, cooperation, care and attention, but also leisure and relaxation. The office should be similar. Only there can people develop their full potential.

Reflect: You deal intensively with motivation and inspiration. What tips do you have for today's managers with regard to "New Work"?
J. Teunen: I advise managers to first meet employees as people with individual needs and desires and not first as employees. Everyone wants to be happy. And happiness comes from security and consideration of individual wishes and needs. The manager should ensure that the employees feel secure and that the individual is respected. The longings for solidarity and the development of potential should also be satisfied in companies. Let us stick to the image of the garden. A gardener cultivates and cares, accompanies, promotes natural growth and takes care that the natural humus is not dried up. A manager should also accompany his employees and create circumstances so that they can fully develop their potential according to suitability and inclination. The holistic view of a leader is immensely important.

Reflect: You just presented your new book "Wo die Seele singt - Die Kunst in Unternehmen" at the Frankfurt Book Fair. Would you like to give us a glimpse?
J. Teunen: We come to the office and bring three things with us. One is our body. It needs harmonious, physical ergonomics. Second, the spirit. The human mind needs beauty as a counterweight to negative information, beauty comforts us. The third thing we have in the office is our soul. The soul is the only non-organic organ we humans have. This organ's primary function is to maintain connection with the higher. We can achieve this by feeding the soul. The food is called "Spirit". This soul food is concentrated in only two areas, namely religion and art. Therefore, it is very important that art is integrated into companies' workspaces. Of course it is not enough to simply add art. You also have to help the employees to open the deep space of art so that people can approach the food of the soul. This is the theme of the new book.

Reflect: Dear Prof. Teunen, thank you very much for the very inspiring conversation!
The conversation was conducted by Jutta Merkel, Reflect


---

Book recommendations on the subject:

Kulick A., Quarch, C. & Teunen, J. (2017). Officina Humana: The office as living space for potential development. Avedition

Quarch, C. & Teunen, J. (2019). Where the soul sings. About art in companies. Remedium publishing house GmbH

Kallenbach, I. (2016). Leadership in a healthy organization: Exceptional performance through potential development. Schäffer Poeschel