New work model homeoffice - curse or blessing?
Today's working world 4.0 is constantly changing. The requirements of the VUCA world (volatility, uncertainty, complexity and ambiguity) demand ever greater flexibility and adaptability from employees. In the new world of work, the "home office" therefore plays an ever-increasing role.
Working flexibly from home has the potential to make it easier to reconcile work and private life, especially family life. Digitalisation decouples work from the place of work. The Internet, laptop and smartphone allow employees to work anywhere in the world.
"There is no working time or free time, it's all lifetime," says Götz Werner, founder of dm. The strict separation of work and leisure time is practically cancelled by the business mobile phone. While Generation Y willingly answers e-mails quickly in the evening, the younger Generation Z in particular advocates a clear distinction between work and private life (work-life separation). The development of the work-life balance towards a merging of work and private life, the "work-life blending", is a development of today's world of work.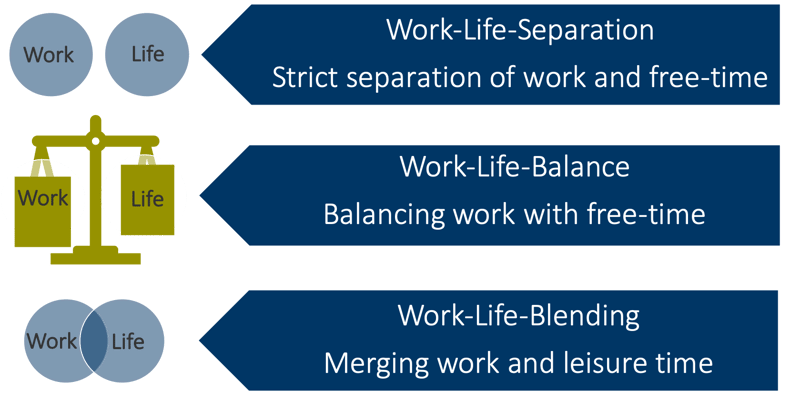 Figure 1: Work and leisure time


The home office also plays an increasingly important role in the "War for Talent". Personnel managers try to counter the shortage of skilled workers with "home office" offers. In many companies this has become a matter of course.
The advantages of working in home office are obvious.
The way to work
- The driveway's gone. Traffic jams or waiting for delayed trains is a rest for the stressed commuter and of course an immense time saving.
Concentration
- At home you can concentrate on your work. There are no noisy colleagues or other interruptions due to questions or ambient noise. Concentrated work is possible 

Self-determined work
- The employee can decide for him/herself which work package he/she will work on and when. Agile methods such as Scrum and Kanboard provide him/her with optimal support in doing so. 

Compatibility with private life
- Briefly turn on a washing machine, see a doctor, leave the child at home in case of illness... These are definitely advantages of the home office. 

Efficiency
- The Stanford study (2013) shows that employees at home are 13.5 percent more efficient than in the office. They take fewer breaks and were still less ill. The rate of absenteeism was 50 percent lower than that of colleagues in the company. On average, they are even more satisfied with themselves and their performance. 

In summary, it can be said that working in the home office brings many advantages and that the employees are more satisfied. However, they are also exposed to a higher workload. Some studies therefore also warn against the risks of a "home office".
Accessibility and digital fatigue
- Constant availability and work at unorthodox times. Especially the flexibility during the day makes the evenings unintentional working hours. Digital fatigue can trigger symptoms such as stress, rapid fatigue, concentration problems and irritability. In the long run, recovery is neglected and can lead to burnout. 

Career opportunities
- Home office? You don't work there anyway! These prejudices can still be found in conservative companies. Those who work in the "home office" are not connected to "meetings" and remain on the career ladder. 

Overtime
- The downside of self-determined work is that employees like to work one hour more. Even a guilty conscience in the home office leads to more frequent unpaid work. The danger with "work-life blending" lies in the fact that there is no "blending", i.e. mixing, but that working life in the "home office" only increasingly superimposes and displaces private life. 

Creativity/Innovation
- The "New Work" world of work requires creativity and intuition. An inspiring environment, a cheerful togetherness, a lively exchange of ideas and playful competition let ideas flow. Such conditions do not exist in the sparse "home office" alone. 

Loneliness
- People need social contacts, noticeable recognition, appreciation and solidarity. In everyday office life it comes to having coffee with colleagues and team spirit can develop much more easily. 

From our point of view, the advantages and disadvantages of the "home office" are almost balanced. 
So how can we work successfully in the "home office"? 


Here are our 5 recommendations:
- Creating at least a 50:50 balance (office - "home office") 

- clearly distinguish work and leisure time - also mentally - from each other 

- Quality in the environment: A lovingly furnished workplace provides the necessary feel-good factor and increases performance. 

- use video conferences (facetime, skype, teams, google hangouts...) as often as possible 

- Perceive team meetings consistently 


Conclusion:
The danger with "work-life blending" is that there is no actual mixing, but that working life increasingly overlays and displaces private life. Working from home can be more stressful, but working self-determined makes you happier in the long run. In summary, this means that both employers and employees can clearly benefit from "home office" regulations.
In order to promote innovation and creativity in the team, a mix of possibilities between office and "home office" is crucial. Social exchange at work, eye contact and direct cooperation are all part of this to make us feel good.

---

Literature:
Amerland, A. Homeoffice increases productivity. In: Springer Professional. At: https://www.springerprofessional.de/personalmanagement/gesundheitspraevention/homeoffice-steigert-die-produktivitaet/15784342, published on 13.08.2018