X, Y... generation Z - cultural change in your company
The working world is constantly changing. Due to the requirements of the VUCA world, companies and employees are in a constant process of change and adaptation, the permanent beta. The baby boomer generation with the highest birth rate is slowly retiring. Over the next ten years, they will withdraw completely from active working life.
The next generation X currently represents the largest share of employees and also in management positions. Generation Y has already gained a foothold in professional life and the first representatives of Generation Z, the Youtube generation, have completed their training and are entering the job market.
Different values and attitudes of the generations collide. Someone for whom a career was a significant pillar in life should now develop and lead young potentials that question the meaningfulness of the companies and make clear demands on the compatibility of career and family.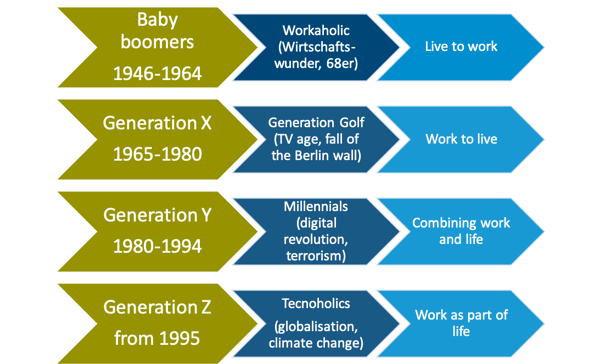 Figure 2: Overview of generations, values and attitudes towards work
The demographic change in Germany is coming inexorably towards us and with it the generation change. In addition to the analysis of values and motivation, conclusions can be drawn about the associated changes in leadership style. The question also arises as to what incentives companies must create in order to position themselves in the "war for talent" as a healthy organization and attractive employer.
In a recent study (Deloitte 2019), over 16,400 millennials and representatives of Generation Z were surveyed. Among the participants were 800 Germans. They are even more worried about the future than their peers in other countries.

How do Gen Z and Gen Y differ?
At first glance, the values of the two generations are very similar. "Life balance" and digitalization play an important role for both generations. The preferred ambitions are not particularly different either: traveling and starting your own family are more important than a high salary or property. In the case of Gen Z, climate change overtakes terrorism in terms of fears.
Generation Y wants to be unique and individual. Gen Z, on the other hand, has experienced that the dreams of its predecessors of meaningfulness, variety and self-realization have not been fulfilled in working life. They are confronted with high rental and real estate prices and again develop a longing for security and want to be part of a community.
While Gen Y strives for meaning and combines work and private life, Gen Z strives for a clear distinction between work and private life. The attitude to balance work and family and to see work as a part of life poses great challenges to traditional companies.

What does this mean for organisations?
Those who want to succeed and assert themselves as a company in the "war for talent" should adapt their corporate culture and management style to the needs of the individual generations.

How do you keep Generation Z in the company?
Gen Z' ler demand clear and structured leadership. They value flat hierarchies and a participative management style: a large say in decision-making and opportunities for participation are a matter of course. Open and transparent communication about expectations is recommended.
"Life balance"
Generation Z wants a clear demarcation between work and private life. "Additional services" such as home office and flexible working hours are expected as standard. Meaning and self-realisation, on the other hand, are sought more in private life and social contacts than in work. Just as important are regular working hours and the (own) desk in the office. A preference for clear structures fits in well with this.
Open feedback culture
Gen Z' ler grew up as "Digital Natives". They are used to permanent communication and feedback. They transfer this claim into the world of work. Companies do well to evaluate their feedback culture and adapt it to the needs of young talents.

Conclusion:
Generations Y and Z are forcing a cultural change in companies. They bring new perspectives and have different expectations of their jobs and careers than the generations before them. Generations have the ability to differentiate themselves, which can lead to conflicts, but also to new solutions.
Managers often find heterogeneous teams, which is why we recommend them:
- Organize impulse lectures to the different generations in the context of monthly, informal meetings, at which exchange and discussion are possible.
- Establish reverse mentoring programs and activities across all generations. This allows Gen Y and Z to benefit from the experience of older people and older workers do not stop developing, e.g. in the field of digitisation.
- Conduct short format generation workshops! In this way you create a higher awareness for the differences and similarities of the generations and a better focus on the special strengths and potentials in mixed-age teams.
- Design the workshops in a humorous and playful way so that they are methodically inspiring.
If you lead different generations healthily, you achieve a higher mutual appreciation and a more effective cooperation in heterogeneous teams. We are happy to support you in this exciting task. Our workshops prepare you for possible challenges towards a healthy organisation. Please feel free to contact us via our contact form.
---
Literature:

Eick, Felix: Generation Z has no confidence in business, In: World online, At: https://www.welt.de/wirtschaft/article196678315/Umfrage-Was-die-Generation-Z-von-der-Zukunft-erwartet-und-was-sie-fuerchtet.html, published July 11th, 2019

Gehm, Florian: After Generation Z, Millennials also lose the desire to work, In: Welt Online, Unter: https://www.welt.de/wirtschaft/karriere/article194914883/Nach-Generation-Z-Nun-verlieren-auch-Millennials-Lust-am-Arbeiten.html, published September 6th, 2019

Haas, Christine: Generation Z reports sick if they don't like something, In: Welt Online, Unter: https://www.welt.de/wirtschaft/karriere/plus188002117/Generation-Z-im-Job-Die-melden-sich-krank-wenn-etwas-nicht-gefaellt.html published January 31st, 2019