Generation conflict in the workplace
In our offices, employees from different generations come together at one workplace. Each generation is shaped by its own political and economic developments, technologies, work attitudes, life experiences, expectations and values. These different backgrounds certainly harbor potential for conflict.
In order to find out what conflicts the generations have with each other and what they value in their jobs, the OnePoll opinion research institute, on behalf of the office supplies supplier Viking, conducted a representative online survey of 1,000 German employees at the end of 2019.
The results of the survey certainly provide food for discussion - here is an overview of the most important aspects:
- Power struggles between baby boomers and Generation X exist among a third of the participants
- A quarter of managers are not very confident about the leadership of the two new generations (Y and Z)
- About one third of Generation Z estimates the cooperation with all generations as negative
- Conversely, about one third of all generations repeatedly report conflicts with Generation Z regarding their attitude to work
- One in 8 women of all generations complains about stereotyping by baby boomers


Generation Overview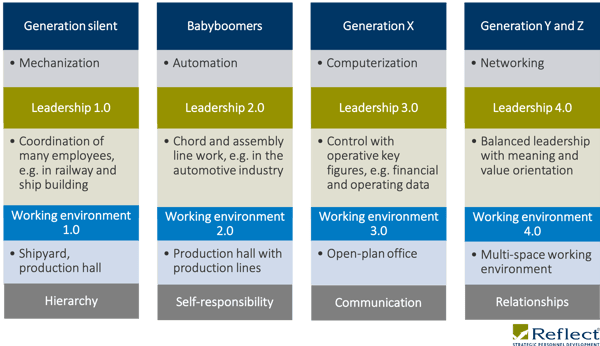 Figure 1: Generation overview

Work attitude and power struggles

Almost a quarter of those surveyed perceive the cooperation with the oldest generation as negative. The youngest generation also appears to be conflict-ridden - almost a quarter of those surveyed had negative experiences with Generation Z.
For more than a third, conflicts with Generation Z regarding their attitude to work occur time and again. On the other hand, one third of the participants have repeatedly experienced power struggles with baby boomers and Generation X.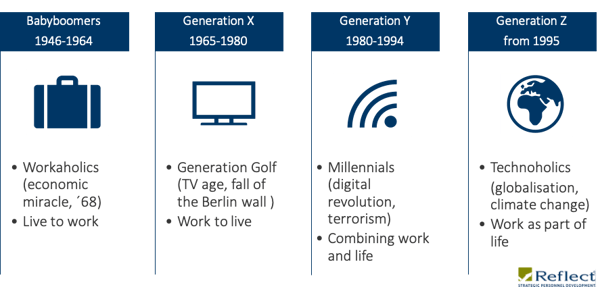 Figure 2: "Typical" work settings

Men and women are fairly unanimous about the younger generations. However, men of generation X have a more negative perception of working with older generations than women.
This is especially true when working with baby boomers: almost one in three men in Generation X does not like working with the older generation, while only half as many women do.
Women of all generations have problems with the baby boomers. At least one in eight women complain about stereotyping, but only half as many men have this problem.

Generation Z
About a third of the baby boomers, Generation X and the millennials have problems with the work attitude of Generation Z employees. This is mutual. More than a third (37%) of Generation Z is struggling with the work ethic of their peers. At least everyone agrees on this.

What do the generations attach the most importance to?
For 90% of baby boomers, a secure job is important. Interestingly enough, this also applies to professional development.
The focus of the younger generations, on the other hand, is elsewhere: Generation X and the Millennials, for example, attach particular importance to salary (83% and 86% respectively) and friendly colleagues (84% and 88% respectively).
Generation Z, on the other hand, is above all passion for their job (84%).
Autonomy is of relatively high importance for all generations.
"Incentives" for employees (such as free snacks in the office or discounts) are not really interesting. Only 48% of all respondents attach importance to them.
Such "bonuses" can be considered as hygiene factors today, as they do not attract attention if they are present, but can have a negative effect if they are missing.

Innovation and leadership qualities
Each generation has its own qualities that make a valuable and positive contribution to the working atmosphere and the success of the company. Every generation has its strengths and potential. However, conflicts within the team are a competitive disadvantage and make organisations ill in the long run.
Since younger generations in particular have a different attitude to work and different values, conflicts between young and old can occur more often.
As managers, you will often find heterogeneous teams, which is why you can think about the following approaches:
- Do not deny possible generational conflicts, but talk about them openly. This can also be appropriate as a preventive measure. Motto: Everybody is different and that is a good thing.
- Use a jour fixe for the topic and encourage an open discussion. The following guiding questions can be helpful: How do we experience these generational conflicts in our team? What do we actually perceive in our everyday work? What would make working together easier?
- Organise a keynote speech on this exciting topic and facilitate a subsequent discussion. Make it clear: each generation is valuable and has its strengths.
- Establish reverse mentoring programs and activities across all generations. In this way Gen Y and Z can benefit from the experiences of older people and older workers do not stop in their development - e.g. in the area of digitalisation.
- If there is a relatively high potential for conflict in your organisation due to generational differences, conduct short format generation workshops. In this way you create a higher sensitivity for the differences and similarities between the generations and a better focus with regard to the specific strengths and potentials in mixed-age teams.

We are curious - what are your experiences so far?
One thing is clear: With a conscious and healthy approach to the differences between the generations, you will achieve a higher mutual appreciation and more effective cooperation in heterogeneous teams.
We would be happy to support you in this exciting task. If you have any questions, simply contact us without obligation using our contact form.