Generation Greta - the way the new generation ticks
Generation Z - or Generation "Greta" - is increasingly coming into focus. This generation, born between 1995 and 2012 and represented in particular by its protagonist Greta Thunberg, is drawing attention to itself through its political commitment in the context of the "Fridayforfuture" demonstrations for more climate protection. The first representatives of this generation are currently finishing their studies and entering the labor market.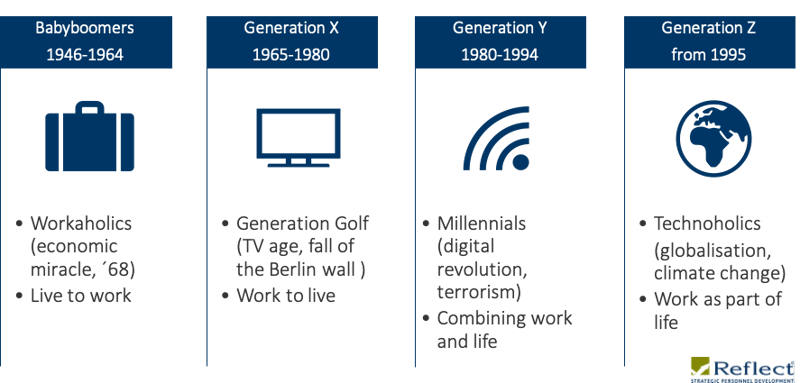 Figure 1: Generation Baby Boomers, X, Y, Z (REFLECT 2020).

What values does this generation bring with it and what does this mean for companies?
What expectations and demands are manifested in particular?
What does this mean for areas such as personnel development, personnel selection or management development?
The comprehensive Shell study from 2019 is based on a representative sample of 2,572 adolescents and young adults aged 12 to 25 who were surveyed about their life situation and their attitudes and orientations.
The results show that - in addition to their interest in politics - the generation is primarily concerned with fears about the environment, followed by migration, but also flight. At the same time, they tend to have a positive view of society's future, with 59 percent finding that things are fair in Germany overall.
The trend toward an increasingly colorful society is accompanied by a high level of tolerance among teenagers and young adults. The study shows that a very large majority of girls and boys have a positive attitude toward various social groups and minorities.
For the overwhelming majority of this age cohort, friends, a trusting partnership and a good family life continue to be the most important values. As a result, a relatively family-oriented picture emerges. The relationship between young people and their parents is predominantly good.
On the other hand, a high standard of living and asserting one's own needs are comparatively less important.
Overall, idealistic, more meaningful value orientations are once again more popular among young people. The trend is reversed in the case of tendencies toward materialistic orientations aimed at increasing personal power and assertiveness.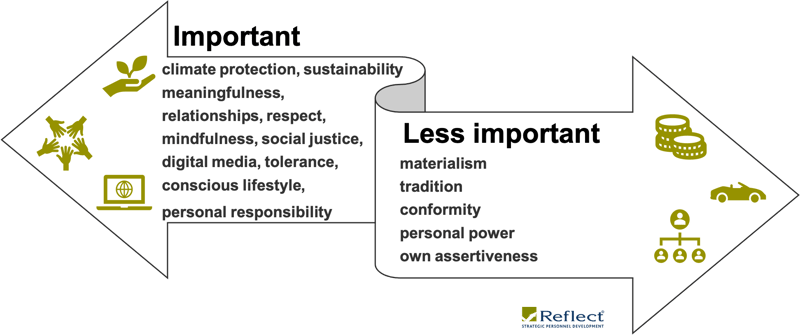 Figure 2: Values of Generation Z (Shell Study 2019).

To get a differentiated picture of how you can position your organization with regard to the needs of Generation Z, we use our Healthy Organization model. The key dimensions it contains provide a holistic view of the different facets of what we call a healthy organization. We compare these with the orientations of Generation Z and thus obtain corresponding recommendations for each dimension.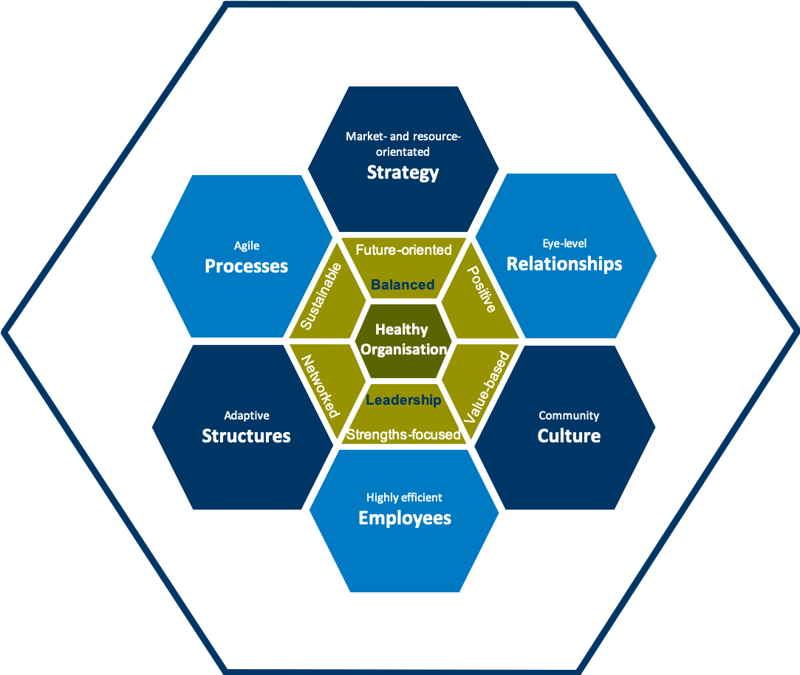 In their dealings with each other, adolescents and young adults are used to democratic discussions based on eye level. The argumentation logic of the climate discussion is predominantly based on scientifically sound studies. They not only reject paternalism or restrictions, but also make clear demands on society and politics.
Hierarchically oriented organizations will have to open up here and put themselves on an equal footing with the youngest employees in order to convince them to work in their company.
Balanced leadership is very applicable to Generation Z in particular, as they see leadership as support for self-leadership. Identifying and developing all individual as well as higher-level team and organizational potential also harmonizes with Generation Z's desires and values for community and self-actualization.
This desire applies not only to the individual, but above all to the team. Such a type of leadership is 'balanced', as leaders aim to bring the individual company dimensions as well as the overall organization into harmony with themselves and their environment.
The values of "Generation Greta" are focused on meaningfulness, environmental protection and sustainability in the company. In organizations, employees should be able to see themselves reflected in the corporate culture.
Model shared values and accept values that differ from them. Create a balance between tolerance and sanctioning. Correct boundary transgressions through social control. Design your systems to encourage collaborative behavior and discourage non-communal behavior, because Gen Z also has a strong desire for community, as well as a mutual respect and sense of fairness.
Generation Z is paying more attention to its own health. Almost half of 18- to 24-year-olds (44 percent) have an app on their smartphone or tablet to "track" their health or fitness. They use the digital helpers primarily to analyze their sleep or monitor their own eating habits.
Whether it's a fitness or shopping app - for Generation Z, an application must be one thing above all: intuitive. In order to make applications user-friendly, methods such as "design thinking" help, in which the feedback of the "users" flows into the development at an early stage.
Company gyms, "active breaks," exercise in everyday life, healthy food in the company, sports offers, financial participation in eBikes, etc. are increasingly accepted by this generation.
Generation Z has grown up with technology. Accordingly, for the "technoholics," digital media are not only a workspace but also a living environment in which they learn, work, laugh and build a network of friends.
Knowledge is stored en masse "in the cloud" and does not have to be learned first. The members of Generation Z have become true information managers, filtering out from the myriad of data those that are relevant to them in a given situation. Technology, agility and forming networks are strengths of Generation Z, but make sure that in all digitized coordination processes, analog communication does not fall by the wayside and the lively dynamic adaptation to environmental conditions does not suffer.
Structures form the blueprint of any organization. We speak of adaptive structures when the organization can adapt very quickly to external changes. This is more difficult for classical, pyramidal organizations than for example network, circle or cell organizations.
Such organizational forms require a high degree of self-responsibility and self-organization. This is very much in line with the needs of Generation Z, which thrives in self-organized teams with a desire for self-fulfillment in the collective.
In our view, a company's strategy should be market- and resource-oriented. This means that on the one hand it is clearly aligned with the needs of the market, and on the other hand it is oriented towards the resources within its own organization as well as society and the environment.
Environmental protection, meaningfulness, sustainability have the highest priority for Generation Z. Material things are becoming less important, which is why the focus on intrinsic motivation is so fundamental. The demand for products and also employers, which contain the above mentioned attributes, will also be sustainable in 10 years. In the "war for talent," representatives of Generation Greta are paying very close attention to which company they would like to work for.
Conclusion:
The first Generation Z employees are just entering the labor market. Aspects such as environmental protection, sustainability and meaningfulness should therefore now at the latest play an overriding role on the agenda in your considerations regarding the orientation of your organization. In doing so, seriousness is called for - "greenwashing" is quickly exposed and punished.
With our model of a healthy organization, you will find an attractive, sustainable frame of reference that can not only make your organization fit for today and tomorrow, but also offers substantial and sustainable approaches for the potential employees and consumers of Generation Z. Feel free to contact us and get to know our holistic concept of the Healthy Organization without obligation.
Have a look at our workshops, there are interesting "sessions" in the area of leadership development, change management and "Workplace Change". We also recommend the book by Ingo Kallenbach "Führen in der Gesunden Organisation."
---
Source:
October 2019 Shell Study 2019: "A Generation Speaks Out," https://www.shell.de/ueber-uns/shell-jugendstudie.html