Agile transformation (part 8) - questions and answers
In our blog we have dealt extensively with the necessity of agile transformation in the VUCA world. The extensive changes, the permanent beta in which we find ourselves, clearly show us that companies must operate agilely in order to remain competitive and healthy in the long run.
The last part of the series - Agile Transformation - will now, practice-oriented and based on your questions, take up the challenges of introducing such transformation processes and provide you with assistance. If you do not find your questions, please contact us, we will certainly answer you.


1. "Is agile transformation just a current hype or is it really necessary?"

We live in the age of digitalization, that is undisputed. Most people see their smartphone first thing in the morning and last thing in the evening. "Nur noch kurz die Welt retten, 148 Mails checken" as Tim Bendzko sings. Digital change is not a fad and affects companies to a greater or lesser extent, depending on the sector.

The consequence of technological development is that companies have to react more quickly to complex and dynamic markets. It therefore makes strategic sense for corporate management to proactively confront the transformations of the VUCA world, the "permanent beta", and to position itself in an agile manner.

2. "We have very clear hierarchies in our company. How can I convince the management to become more agile?"

As we described in our agile transformation part two - analysis of the status quo - it is crucial to evaluate which adaptive structures exist in your company.
It does not make sense for every company to enforce agility. Remember that it is also possible to have structures in which individual company areas are very hierarchically structured and others very agile, see Figure 1.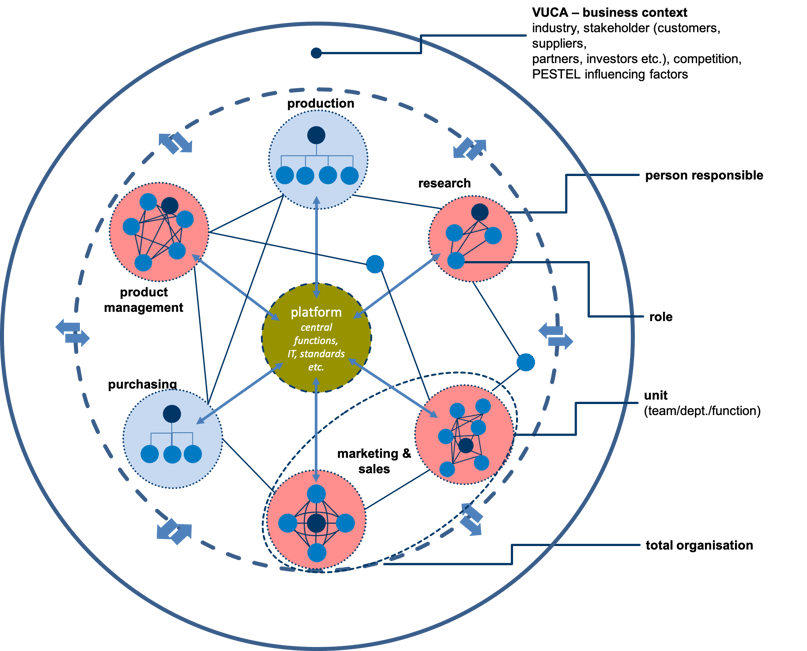 Figure 1: Kallenbach (p. 319, 2016)


Therefore, carry out a detailed analysis and start well prepared with an agile pilot project. If the project is successful, you have good arguments for your management to scale agile transformation processes.

3. "We have already established agile methods such as SCRUM in some business areas. How do I manage the step from agile working methods to an agile company?"

Agile tools like scrum work very well in small teams, but are not easily transferable to the whole company. Frameworks like Safe or the establishment of flight levels with Kanban are tried and tested ways to implement agile methods vertically.

What can be introduced holistically in any case are mechanisms such as participation and values. Agile processes and methods create transparency and thus promote the networking of teams. Employees are seen as individuals, are valued and learn to act as a team instead of as lone fighters. This is a first step towards cultural change.

For holistic agility, however, vertical and horizontal penetration is necessary, as we explained in Agile Transformation (Part 6) Methods and Instruments. In addition to the networking of individuals, it is crucial that agile transformation is introduced and lived at all management levels.

4. "How do I involve the employees?

Employees are also strongly affected by digitization. The change from hierarchical to network-like cooperation in the world of work 4.0 is summarized under the term New Work Transformation (Bruch & Block).

The adaptability and dynamics required by the VUCA world also require a transformation of leadership style. Often the employees feel overstrained and under pressure. One of the principles of agility is cooperation (Lindner, 2017).

It is therefore important for managers to understand how human networks function and how they can support the individual's freedom, fully develop their potential and coordinate it collectively. Balanced leadership based on trust is the key to a healthy organisation.

5 "Agility requires cultural change. How can I anchor this cultural change in the long run?

More important than the application of agile processes and tools is the appreciation of the individual and the creation of an agile mindset in order to achieve a long-term cultural change in the company (denning).

In this context, mindset is defined as "the totality of values and convictions as well as attitudes and principles that determine and shape the actions of the organization" (Denning).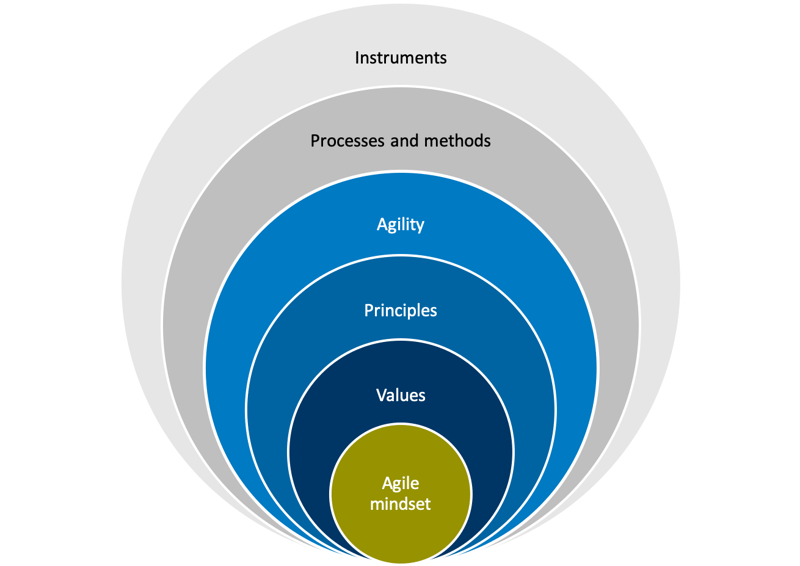 Figure 2: Agile mindset (inspired by Denning, 2016)

In our concept of a healthy organisation, we have worked out solutions for the long-term formation of an agile mindset in the company: Systemic thinking at the management level, the development of the potential of the employees, the promotion of performance and health and balanced leadership are the most important drivers. Where can you put a catch in your company? Read more here.

6: "What are the success factors for agile transformation?"

The advantages of an agile company are defined by speed, attitude, customer focus and iterative approach.

In order to optimally support agile transformation and thus promote cooperation, networks and transparent communication among employees, agile framework conditions must be created.

In addition to structural framework conditions, such as structural and process organisation, spatial framework conditions should also be adapted in such a way that proximity, transparency and openness are promoted. Studies have shown, for example, that open-plan offices are not conducive to open communication. What is needed here is a room design that really does justice to the needs of today's working world. We have already given an outlook on this in - how we will work in the future.

The design of Workspace 4.0 is such an important topic that we will soon be reporting on it in detail in our notes. Be curious!

Conclusion:

Agile transformation is a broad field and the influences of digitization and challenges of the VUCA world of companies are unstoppable.

German medium-sized companies and corporations, which are still very hierarchically structured, find it difficult, but see the necessity to operate more agilely in order to remain competitive.

Successfully implementing an agile mindset and moving towards an agile, healthy organization requires accurate analysis, evaluation and implementation across all levels of management.

This is also the challenge - to achieve holistic acceptance for the importance of this topic in all areas of the company. Get started, we will be happy to support you on your way to becoming an agile company and look forward to hearing from you.

Read also: The 5 Trademarks of Agile Organizations by McKinsey
More blog posts from the series "Agile transformation":
Agile transformation (part 1) - classic vs. agil
Agile transformation (part 2) - analysis of the status quo
Agile transformation (part 3) - three relevant premises
Agile transformation (part 4) - designing a roadmap
Agile transformation (part 5) - setting up a pilot project
Agile transformation (part 6) - methods and instruments
Agile transformation (part 7) - step on it!
---
Literature:

Bruch, Heike; Block, Christina. Top management between digitisation and the world of work 4.0. St. Gallen: Institute for Leadership and Personnel Management

Denning, Steve: What's Missing in The Agile Manifesto: Mindset. In: Forbes: Under: https://www-forbes-com.cdn.ampproject.org/c/s/www.forbes.com/sites/stevedenning/2016/06/07/the-key-missing-ingredient-in-the-agile-manifesto-mindset/amp/ (published 7.06.2016)

Glogner, Boris (2016) Scrum - Developing products reliably and quickly. Munich: Carl Hanser Publishers.

Lindner, Dominic. (2017) Agile Company - Sustainable in Digital Transformation. E-Book.

Kallenbach, I. (2016). Leadership in a Healthy Organization. Extraordinary performance by means of potential development. Stuttgart: Schäffer-Poeschel.