Agile transformation (part 1) - classic vs. agile
Are the principles of classical change management still suitable for the framework conditions of the VUCA world?
For some years now, agile management has been discussed, presented and trained in workshops, lectures, books and articles. The "agilisation" of the working world has become a hype.
Before that, managers were and are still being trained in change management. Agile management and change management, along with digitalization, are the two buzzwords that have had a major impact on management literature in recent years.
What are the differences between the two approaches and ways of thinking? Is change management now an old shoe? Is agile management being hyped too much? What will be left of it in the end? Which way of thinking and acting is and will be decisive in the world of VUCA in order to use the ever faster and more complex developments instead of being rolled over?
I would like to invite you to be inspired by the contents of the blog posts of the series "Agile Transformation". You will learn backgrounds, connections, but above all practical hints and tools so that Agile Transformation does not remain just a catchword for you, but a path you can choose for the benefit of your organization.

Is transformation necessary?
Experts and managers agree that the decisive characteristic of a healthy company is its willingness to change and the resulting ability to change. The fact is that the world is undergoing a comprehensive transformation process.
"Change is all around us" - change is not a buzzword, not a trend - in a VUCA world environmental changes, sometimes volatile and opaque, are the order of the day. It is important to constantly adapt to a rapidly changing market or to be swept away by the market. The question is when and how to face this change and transformation - and not whether.
Companies such as Apple, Amazon or Google have already integrated agility into their DNA and thus displaced 20th century industrial giants from the top positions as the largest organisations in the world. Fintech Wirecard, which recently drove the venerable Commerzbank out of the DAX without a sound or a smile, shows that something like this also works in Germany.

Classic change management or agile transformation?
What is the meaning of agile transformation compared to classical change management?


Although classical change management has change as its goal, it is embedded in an environmental context in which stability and plannability are paramount parameters. If changes are recognized as necessary, an attempt is made to bring them behind us as quickly as possible.
In other words: there is still a reasonably stable initial state and a desired, stable target state. The task of classical change management is to keep the phase of unrest between these two stable states as short as possible.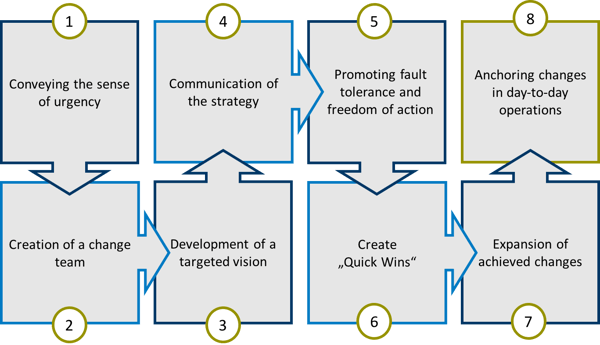 In the agile transformation, however, lasting stability is expressly not provided for. It is replaced by a state of permanent testing, experimentation and trial and error, the "permanent beta".
The stable initial state is not followed by a short phase of restlessness and then by a stable target state. Instead, a permanent adaptation process becomes a new normality. It is not only about changes with a defined start and end, with a project plan and corresponding measures, but also about the awareness of the necessity and normality of a continuous further development of the organization.
Thus, the understanding of change as a project is changing towards transformation as a permanent process, in which the cultural framework of the organization becomes more agile and flexible.

Classical change management is often still strictly hierarchical, i.e. top-down. Often the management itself is not affected by change. However, this reproduces the resistance that one actually wanted to prevent - sometimes through the use of external consultants and organizations that are supposed to "push through" the change among the employees.
Agile action, on the other hand, makes it necessary for managers to see themselves as the spearhead of change, but no longer to control it hierarchically, but rather to be able to balance it systemically.
The internal knowledge and personal experiences of employees are seen as the central resources for initiating and shaping change.
Only through such an expanded understanding of "change" can the leadership of change processes gain credibility and ignite collective forces within the organization that can compete with today's turbulent environmental changes.

Conclusion
The ability of organizations to change is becoming a decisive competitive advantage in an increasingly digitalized world. How well companies can take employees with them, adapt to changing customer requirements, integrate innovations, decides whether they help shape the developments of the world or are overwhelmed by them.
Traditional change management approaches are no longer sufficient to meet these challenges. An agile transformation is necessary, whereby companies continuously adapt and optimize their strategy and its implementation and learn to reinvent themselves again and again.
---

Literature:

Eissfeldt, K. & Jaeger, C. (2018). This makes your company a valuable employer. A holistic view of sustainable success. Wiesbaden: Springer Gabler

Kallenbach, Ingo (2016). Leadership in the Healthy Organization. Exceptional performance through potential development. Stuttgart: Schäffer-Poeschel.