Strengths-focused leadership in the HO (5/7)
Not only Andrea Nahles has only recently demanded a leadership culture, in oder to keep employees fit and thus to cover the shortage of skilled professionals. Once again it was proven in an enlightening study of the Federal Institute for Occupational Safety and Health that there is a clear connection between leadership behaviour on the one hand and well-being as well aspsychological health of the employees on the other hand. Healthy leadership furthermore strengthens the team climate und the commitment of the employees (Rigotti et al 2014; the internationale, three-year study can be requested from us).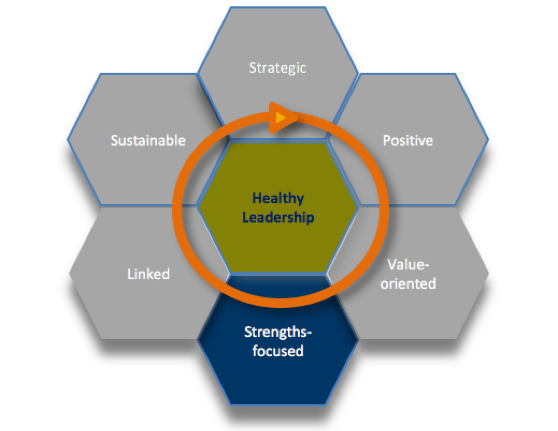 The positive psychology movement which started in the 21st century as a new disciple delivers interesting approaches that have flown into the concept of positive leadership (Fredrickson 2001, Cameron et al. 2003, Cameron 2008). Positive leadership however has nothing to do with the rightly often criticized approaches of "positive thinking" and the "tschaka mentality" of motivation trainers of the 90s, but it is based on the pillars of sense, strengths orientation and flow.

Sense
Without sense (meaning) there is no motivation and thus no effort. An internalized meaning enables intrinsic motivation and contributes to achieve great performances and thus to bring the company forward.

Strengths orientation
The idea of wanting to fundamentally change people does not work out. It is much rather important to carve out the individual strengths and to further develop them systematically in order to be able to make continuous improvements. This motivates people more to achieve top performance than by means of focusing on deficits.

Flow
The flow state is characterized by a condition in which personal skills and external demands perfectly match each other. When the demands succeed the skills, you end up overstrained. If the skills are much more pronounced than the current job demands, too little is demanded of you. In the flow state acting happens with a certain ease - concentrated, but following an inner logic - as a consequence of mental focusing.

What can you do concretely to lead with a focus on strengths?


- Create diverse, holistic tasks, thus, enabling the employee to contribute to the bigger picture (sense).
- Ask your employees what they can do best and organise the work accordingly (strengths-focused).
- Promote autonomous action, by offering diverse design possibilities, in order that your employees can profit from creative freedom ("job crafting", "flow").
- Recognise performance and give appropriate feedback.
- Develop participation opportunities, thus strengthening social belonging.