The effect of positive and negative customer feedback systems on the success of your organisation
This indeed is an exciting story worth a short article: recently, scientists around the "leadership" professor Heike Bruch (Organisational energy, Hochschule St. Gallen) have studied the feedback systems of 70 German service companies (Kipfelsberger et al, 2015 - the article can be requested from us). However, before we get to the results and their significance, please evaluate the following questions on your own:
1. When you examine the different customer feedback systems of service companies, what do you suppose: Do the companies more often receive negative feedback (complaints) or positive feedback (compliments)?
2. Which organisations are significantly more successful: those that work more with positive feedback or those that work less with positive feedback?
Probably you have guessed it: the focus lies significantly more on negative feedback. The further processing of negative feedback is equally high in successful as well as in unsuccessful companies, 81% and 79%, respectively. There is almost no difference here. However, if you compare the handling of positive feedback (compliments), then 55% of the successful companies work with it, and only 32% of the unsuccessful ones.

This is a significant difference. The following derived findings could be especially interesting for you and your company:


- Customer complaints are directly linked with emotional exhaustion on behalf of the employees.
- The focus on customer complaints leads to less productivity and a shorter stay within the company.
- Customer compliments on the other hand are a source of motivation for the employees, which in turn reduces emotional exhaustion and fluctuation.
In order that you can use these results as positively as possible, the authors derive the following recommendations for management:


- Look for a neutral or positive name for your feedback system, e.g. simply "customer feedback".
- Use different channels in order to get feedback (not only on the basis of form sheets).
- Use extraordinary ways to spread customer compliments internally as well as an advertising message, e.g. in the employee magazine or by means of posters, see the example of Audi in the figure below.
- Share the stories of customer compliments with others.
- Cultivate respective ceremonial rituals.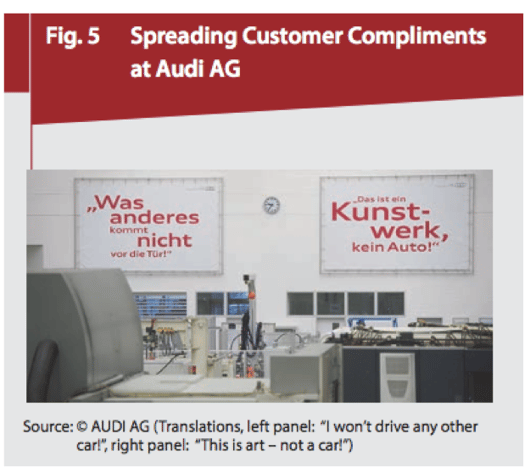 Result:
The subject of positive psychology or also positive leadership (see Strengths-focused leadership) sends its regards. The suggestions of the authors should not pose insurmountable obstacles for your, but should provide more positive results in the sense of a cost-benefit analysis. Sometimes life is so easy, you just have to do it …